Osteopaths In Corsham                                               Osteopathy at The Wellbeing Clinic
BOOK NOW – CALL 01249 716730 
YOUR HEALTH AND SAFETY ARE OUR PRIORITY.
COVID-19 UPDATE – We follow current Public Health England guidelines in the clinic. Your osteopath will advise you of the requirements prior to your treatment.
We are experienced osteopaths based in Corsham, dedicated to providing excellent osteopathic healthcare for you and your family. Our clinic has been established in Corsham  for over 16 years and continues to grow. Practice survey's repeatedly show that the majority of our new patients come to us through personal recommendation. If you are looking for a local osteopath, we offer a wealth of clinical experience between us and a diversity of special interests. Our goal is to alleviate your pain and discomfort and to restore your health and wellbeing.
Please click the link below for a quick insight as to what to expect on your first visit with us at the Wellbeing Clinic.
https://osteopathy.us13.list-manage.com/track/click?u=e586a47a76d4ccee2c2f3d796&id=77ce7fe343&e=75375b3177
If you are unsure whether osteopathy can help you and would like to discuss your situation before making an appointment, we offer a FREE 15 MINUTE PHONE CONSULTATION with one of our osteopaths.
Personal Approach to healthcare
We take the time to listen to our patients and provide 'hands on' treatment based on individual needs . We use a variety of safe and effective manual techniques ranging from the traditional structural techniques to the more subtle and gentle cranial techniques and specialise in the osteopathic treatment of musculoskeletal pain. By working on the body's structure in this way, osteopaths are able to restore normal functioning which encourages the body's own recuperative mechanisms to take over.
Who we treat
Osteopaths are professionally trained to treat people of all ages from newborns to the elderly. We can help alleviate a broad spectrum of problems from back and neck pain, stiff joints, fibromyalgia and headaches to work and sports related injuries and postural problems – including those in pregnancy and childhood.
Babies and Children
Osteopaths Helen Schlotel and Victoria Kent both specialise in Paediatric Osteopathy and are available each Tuesday and Friday at The Wellbeing Clinic, where they treat children of all ages from newborns to teenagers, using their skill and expertise to provide the best for your child. They can also offer special double appointments for Mum and Baby, to address any mechanical strains following pregnancy and childbirth, giving you both the best start to family life. For further information please visit our Babies Children Teenagers page and also our Testimonials page.
Holistic Treatments at The Wellbeing Clinic
We believe a holistic approach to healthcare supports a healthy life and provides the best for you and your family. With this aim in mind, there are a variety of qualified complementary therapists who run their businesses and see their patients at the Wellbeing Clinic. The therapies they provide are Acupuncture, Holistic Massage, Reflexology, Myofascial Release, Psychotherapeutic Counselling, Specialist Foot Health Care, Women's Health (Pelvic Health) Physiotherapy,1:1 Pilates and Clinical Hypnotherapy. Please see individual profiles on the 'About Us' page for complementary therapist's contact details.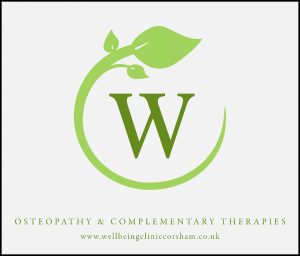 Therapy Room
At The Wellbeing Clinic in Corsham, we have 2 newly refurbished, ground floor therapy rooms available for use by other complementary therapists. If you are interested in joining our team, please call 01249 716730 for more information.
Therapists who currently use the rooms and whose individual profiles and contact details can be found on the 'About Us' page are:
Dawn Hamilton – Osteopathy, Cranial Osteopathy
Helen Schlotel – Osteopathy, Cranial Osteopathy, Specialist Paediatric Osteopath
Victoria Kent – Osteopathy, Cranial Osteopathy
Helen Hudson – Reflexology, Holistic Massage and Myofascial Release
Holly Aragon – Five Elements Acupuncture and Acu Stones
Kate Furneaux –  Foot Health Specialist
Niki Hurst – Women's Health (Pelvic Health) Physiotherapist, Myofascial Release and Pilates Instructor
Katie Guthrie – Clinical Hypnotherapy
Ruth Hussey – Psychotherapeutic Counselling